Your Guide to Auto-Trail Motorhomes 2018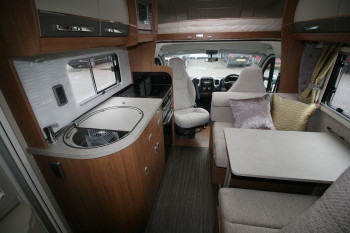 If you're hoping to get your hands on a brand new Auto-Trail motorhome, you just might be in luck. Here at Premier Motorhomes we have an extensive collection of Auto-Trail motorhomes from the various lines, from smaller models to larger ones. Auto-Trail launched their 2018 models at the end of last year, and at Premier Motorhomes we have brand new ones that a due to arrive ready for you to embark on your next adventure! So, here is your guide to the 2018 Auto-Trail motorhomes.
New updates for Auto-Trail
2018 saw a few changes for Auto-Trail; most noticeably, the body shape of their van conversions. The V-Line Sport range is no longer in production, as it was no longer cost-effective to make. Unfortunately, we're saying goodbye to that distinctive coachbuilt roof that was introduced a few years ago.
Auto-Trail have also introduced two new models that have been designed with a more desirable price tag, making luxury even more affordable than before. The new Imala 732 is a 7.26m model that has a transverse rear island bed. This means there are now 8 models within the Imala range. The layout of this model was only previously seen in the more expensive Tracker range.
There is also a new Tracker motorhome; the Auto-Trail Tracker LB which is 7.6m long. The layout of this particular motorhome was only previously available in the more expensive Frontier range. With an L-shaped kitchen and twin facing sofas, along with updated soft furnishings, it's a very appealing style of leisure vehicle.
Other motorhomes under the Auto-Trail brand have experienced new soft furnishings in contemporary colours such as purple, fawn and grey.
New Sports and Media packs
A special Sports pack has been released that can be added to any of the V-Line SE models, except the shorter one. The Sports pack includes handy gas struts, along with a U-shaped rear lounge, flush fitting side windows. You will also get an external shower point and a gas BBQ point within the boot.
There are new Media packs which you can invest in too. Including an 18.5in TV/DVD player, a colour DAB radio with Western European sat nav, USB and Bluetooth connectivity and a colour reversing camera, it's a definite must-have to upgrade your driving experience.
Other new features
2018 Auto-Trail motorhomes will now come with a new PSU that takes up less power; it is also able to handle up to 200W solar power. You will also notice a brighter and clearer 7in touchscreen control panel.