Why choose twin singles in a motorhome?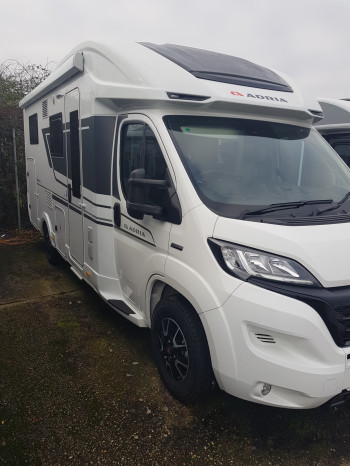 A typical twin single layout in this case the 2022 Adria Matrix Axess 600SL
Shown above is the layout set up for night time with the twin singles in the raer plus an extra and the duble bed up front
So why are twin singles the most versatile layout? Well if you combine this with a drop down or a class bed you have the best of all worlds.
In the rear twin singles, means individual sleeping berths perfect for children or if you go away with your mates. However generally they can be converted into a large double bed when your with your partner.
Couple this with drop down or a class bed and the kids can retire to the bcak of the motorhome and sleep, whilst you stay up and watch a film or read and then just pull your bed down when required.
Also on longer trips away and particularly in very hot climates individual beds give a beeter sleep. Finally on longer trips it is possible taht one of you may feel under the weather and therefore being able to shut off the rear bedroom to allow them to recover or recuperate in privacy is really good.
Currently we have two motohomes of theis style in stock
our 2022 Adria Matrix Axess 600 SL priced at £73177 follow the link below for full details
https://premiermotorhomes.uk/motorhomes/2021-adria-matrix-axess-600sl/
For further details on other Adria models follow the link to their own website
https://adria.co.uk/motorhomes
and we also have a great pre-owned or used Dethleffs 2018 Trend t6717 priced at £59995 with several extras follow the link below for full details
2018 Dethleffs Trend t6717 - Premier MotorHomes
for further details on Dethleffs motorhomes follow the link to their website
https://www.dethleffs.de/en/motorhomes/globebus/
So when choosing a motorhome think carefully about the layout and the potential versatility of that design.