Which brand should you choose? Part 3 AUTO-SLEEPERS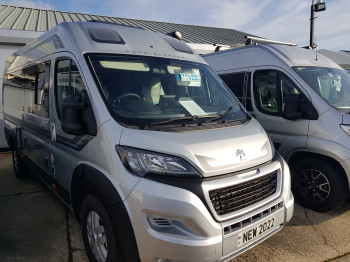 Here at Premier Motorhomes Nr. Chichester in West Sussex, we have chosen to supply new motorhomes from the manufacturers that we beileve represent the best in the industry, heres our third brand.
Auto-Sleepers
This brand has 60 years experience in meeting the needs of customers who are looking for the best in a British built motorhome. Based at Willersey in the Cotswolds, they take great pride in their hand craftmanship and design expertise. Great time care and effort go into the building of an 'Auto-Sleepers' motorhome and it shows, the furniture, fixtures and fittings are all of the highest quality, modern and stylish, hand built to offer many years of enjoyment.
They have four distinct ranges, their Peugeot van conversions offer a wide range of layouts in the 5.99m and 6.36m lengths; their Peugeot coachbuilt motorhomes offer the traditional lounge to bedconversions and the french bed alterantives and one of the smallest motorhomes on the market the extremely popular Nuevo at just 5.75m long. Their Fiat based motorhomes offer an Automatic gearbox option and their top of the range Mercedes built coachbuilts can come with the much revered Mercedes Automatic gearbox.
All Auto-Sleepers come very well equipped once specified with the 'Premium Packs' giving the end user such benefits as microwaves, reversing cameras, awnings, solar panels, TV aerials and even Wi-Fi booster aerials.
Although built in Britain Auto-Sleepers is part of the Trigano group of companies, one the largest leisure vehicle manfacturers in Europe.