Which brand should you choose? Part 2 DETHLEFFS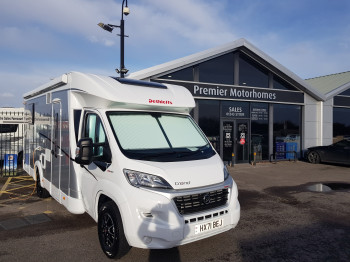 Here at Premier Motorhomes Nr. Chichester in West Sussex, we have chosen to supply new motorhomes from the manufacturers that we beileve represent the best in the industry, heres our second brand.
Dethleffs
They are the oldest manufactiuer of leisure vehicles being around since 1931 and are highly respected having a great reputation with dealers and customers alike for their build quality, style and use of space. Growing from a one man operation when Arist Dethleffs developed the first home on wheels( as he wanted to promote his business but didnt want to leave his family behind) he built his first 'caravan' in a wooden shed. Nowadays the company has a huge factory in Isny, Germany with several highly automated and sophisticated production lines. Dethleffs was also the first manufacturer to adopt the Fiat Ducato chassis now the premier choice for all manufacturers.
The range includes the very successful 'Globebus' a narrow and compact motorhome with great finishes and attention to detail. The t001 is the shortest vehicle being just 5.99m long with a 'transverse bed' over a good size garage. The 'Trend' and 'Pulse' models offer two alternatives in the full width motorhomes with the 'Esprit' being the top of the range and highly configurable.
In addition to these four staples they have the 'Alpa' range of motorhomes in both 'overcab' and 'a class' formats; these popular 'rear lounge' layouts offer flexiblity for longer term touring and extended getaways.
Last year to Celebrate 90 years they launched their 'Just 90' range which has been extremely well received with several layout versions including a shorter vehicle with only a drop down bed, and the traditional rear bed layouts like the island bed (DB) and the twin singles (EB). Like most other manufactuers they now offer the lounge front(L) with opposing benches concealing the two additional travel seats underneath but not comprising on the 'Lounge' space.
We have been Dethleffs dealers since 2007 and enjoyed a very successful partnership with this excllent German brand. With these 5 ranges and a choice of the new Fiat Duacto 8 chassis we are confident Dethleffs are sure to offer something for everyone.