What it Means to Buy a Hymer Motorhome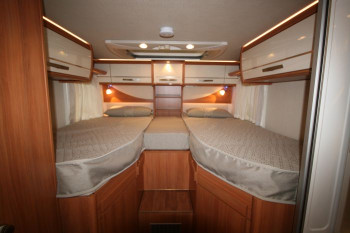 Buying a Hymer motorhome is so much more than just buying a large vehicle to drive to the countryside in. Hymer motorhomes have set the standard high when it comes to leisure vehicles, offering an extensive collection of motorhomes that go above and beyond. Hymer is a brand that has considered all aspects carefully, making sure that each leisure vehicle is more than just a means of mobile travel. So, whether there's just two of you looking for a getaway, or you want to take the whole family away, there's a Hymer motorhome for you.
Thanks to a number of brand values that Hymer have stood by over the last 60 years, when you invest in Hymer, you invest in a motorhome for you and your family to enjoy and relax in.
First class comfort
A Hymer motorhome has been designed with comfort and luxury in mind; each little detail has been thought of to ensure you can relax and enjoy your surroundings. This is something Hymer have continued throughout their motorhomes in their 60 years of business.
Characterised by warmth and light, the living spaces in a Hymer motorhome are bright and airy. Creating a comfortable atmosphere no matter what time of year it is, your motorhome very quickly becomes your home-away-from-home.
The layout of Hymer's vehicles are ergonomic and allow for a substantial amount of storage, including kitchen drawers and other helpful aspects. Making it easy to stay in your motorhome for extended periods of time, there's plenty of room for everyone to enjoy themselves.
Freedom of movement, operating friendliness and easy functionality of Hymer motorhomes mean they are incredibly comfortable to live in.
Maximum safety control
One of the biggest concerns as a motorhome owner is safety; for the driver and for everyone else in the vehicle. Hymer motorhomes have been fitted with a number of features to make sure that your safety is number one priority.
The panoramic window and large side windows mean you have ample viewing of the road around you, while three windscreen wipers provide large coverage to make sure you have a clear view no matter what the weather is doing. The mirrors in a Hymer motorhome are also carefully placed, and are electrically adjustable; making sure there's no blind spot while you're driving.
Important technology such as an antilock braking system, electronic stability programme and antiskid control are included to make sure you can feel confident behind the wheel. Keeping the vehicle steerable and stable in all conditions, your chance of coming into any trouble is seriously reduced.
Setting the standard
Holidaying in a motorhome is a lifestyle; one that has adapted over the years, which means Hymer has had to adapt with it. Hymer has developed modern production techniques alongside cleverly developed materials that have allowed it to call itself the 'inventor of the 3t class'. In other words, Hymer have created motorhomes such as the Exsis-I that remain under the crucial 3500kg maximum weight, while still giving an extensive payload. This is an incredibly impressive achievement.
Lightweight construction means that driving and living in your Hymer motorhome is easier than ever before, with high quality furniture that keep the interior design modern and fresh. 90% of all Hymer's furniture items are made in-house.
Each Hymer motorhome is subjected to a variety of endurance tests, such as extreme temperatures, to make sure it can stand all conditions ready for your adventures.