What brand should I choose? Part 6 USED motorhomes ....Things to consider when looking at a used motorhome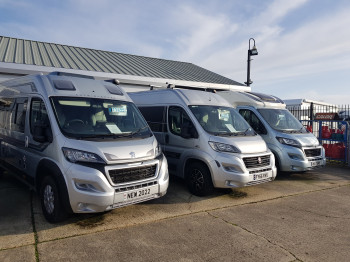 Here at Premier Motorhomes Nr. Chichester in West Sussex, we have chosen to supply new motorhomes from the manufacturers that we beileve represent the best in the industry, however we also offer used motorhomes so heres the sixth option.
USED
There are several advantages of buying a used motorhome, here are some things to consider.
Firstly often the previous owner has gone to the expense of upgrading the motorhome and fitted a number of extra accessories such as a awning, a solar panel, a reversing camera, an extra battery, a bike rack, TV aerial and TV. So you are basically getting these items included in the package at a much reduced price substantially cheaper than the new price.
Secondly as the motorhoime is pre-owned then generally speaking any warranty issues will have been dealt with.
Thirdly you need to check for evidence of good maintenace and up to date service history, not only on the engine and chassis, but also the habitation area and most important check that the water ingress or damp checks have been done
Fourthly the choice on the open market for used is quite varied but you have to take whats available and its difficult to compare like with like as they have often had diferent extras fitted, have different mileage and sevicing history
Fifthly most dealerships should offer some sort of warranty with the purchase of a used motorhome and may include the first years road fund tax
So all in all, plenty of pluses but you need to have a good look at the market, check the history and be sure about what your getting