The Technology Behind Hymer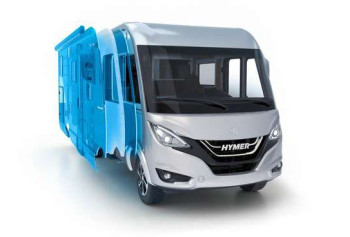 Hymer is one of Europe's leading motorhome manufacturers, and has gained its reputation through 60 years of innovation, design and technology. With so many different ranges and models under its belt, Hymer has set a new standard that views mobile travel as a lifestyle. An investment to last a long time for you and your family, a Hymer motorhome is designed with ultimate luxury and comfort in mind.
So, what sets Hymer apart from other brands in the industry? Mobile holidaying is a lifestyle that is constantly changing and improving, as the brand takes on new challenges and develops production techniques. Each new range released is better than the last, with Hymer showing no sign of slowing down after all this time.
Less weight, more comfort
Hymer can proudly call itself the inventor of the 3t class of motorhomes. Its motorhomes remain under the all-important 3500kg maximum weight without compromise. Not only does this make Hymer a leader in regards to weight, it also means you can enjoy a luxury leisure vehicle that doesn't exceed the limit.
A lightweight construction is used in every Hymer model which has a huge impact on driving; it's easier than ever before. This can also make a difference when it comes to toll charges; you may even find you save some money on your travels!
Despite its reduction in weight, you can still take advantage of all the comforts in your home-away-from-home. You have everything you could possibly need, whether it's a weekend away or a summer travelling.
An economical choice
A motorhome is a long term investment; it's a mobile holiday that you can enjoy over and over for years to come, providing you maintain it well! Value retention is very important when it comes to such an investment. The technology behind Hymer motorhomes mean that the vehicles have low consumption and running costs, as well as great value retention.
Meeting every practical requirement with the right equipment, you can make savings when it comes to gas and electricity which means lower maintenance costs. Hymer motorhomes offer an incredible price-performance ratio that means it's worth every penny.
Optimum driving safety
Driving safety is a huge part of the automotive industry, and motorhomes are no exception. The technology and design developed with Hymer motorhomes means that you can detect danger in good time, have a clear view at all times and also be able to see out the rear properly.
Crash safety and electronic systems such as antilock braking, electronic stability, hill-start assist and antiskid control means that you'll drive your Hymer motorhome with ease and confidence.