The Best Motorhome Sites in UK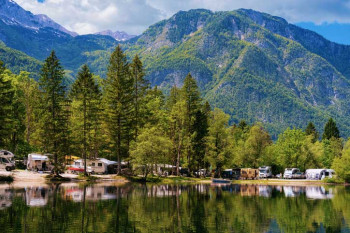 Choosing where to go on your next motorhome holiday can be tough; there's so much choice out there, and so many different destinations right on your doorstep! Whether you're looking for a motorhome site near a big city to explore, or you want to get away from it all in a countryside retreat, you can bet there is a site that's perfect for it. From adult only to family friendly, disabled access to sites that are open all year round, the choice of facilities is endless.
To help you narrow your search, Practical Caravan have put together the top 100 sites in Britain, as chosen by the public. With more and more people choosing destinations based off recommendations, this is a great way of finding new places to discover. So, let Premier Motorhomes help you choose the best motorhome site for your next holiday!
For adults only
Royal Vale Caravan Park in Cheshire is open all year round and offers the perfect retreat for adults travelling without children. A great base for exploring the North West of the country, it's not far from Knutsford where there are lots of things to see and do. With facilities including motorhome pitches, electric hook-ups, well kept sanitary blocks and wireless internet, it's a great spot.
Old Oaks Touring Park, near Glastonbury, offers a luxury camping experience for grown-ups. With a fishing lake and facilities including a painting course, it's a haven for relaxing in the countryside. It has a shop on site and a great area for the dogs to play in.
Widdicombe Farm, near the popular destination of Torbay, is a great base to exploring the beaches and restaurants of Paignton and Torquay. However, the park itself has a bar and restaurant that's open through the spring and summer. You might even get to see some entertainment too!
For families
For many people, going away means spending some quality time with your kids, but it comes with some compromise; you need a great motorhome site that will keep them entertained throughout your stay and ensure they don't get bored!
Woodlands Grove Caravan Park in Dartmouth is ideal for the whole family, as those who stay get free entry to the Woodland Family Theme Park. Home to amusements and a falconry display, it's enough to wow the kids. Being both tranquil for the adults and active for the children, it's a great all-round motorhome holiday.
Park Cliffe in Windermere is a great place to take the kids, with a wealth of activities to get involved in. From day trips to cycling and even water sports, it's a fun-packed area of the Lake District to get stuck into!
Open all year
Not all of us want to go away at the height of summer and sometimes going away out of the usual peak season is better. For this, you need motorhome sites that are open all year round to make sure you can still get your getaway booked in!
Ord House Country Park, near Berwick-upon-Tweed up north, is full of things to do no matter the time of year. Not far from places like Bamburgh, Lindisfarne and Alnwick, it's a destination to relax and explore the surrounding wildlife.
Clover Fields Touring Park is an adult only site that's open all year round. Located near Buxton, it's great for exploring the Peak District and has a café and shop on site for you to take advantage of.