The Best Destinations for Easter 2018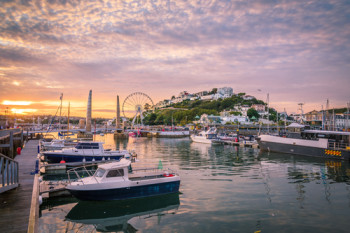 Easter is fast approaching which means only one thing; a long weekend! It's the perfect opportunity to take the family away and spend some quality time together, even if it's just for one night. The kids are off school and the adults get two days off work, so it's a great time to relax and explore somewhere new!
So, whether you're in desperate need of a break or you simply just fancy making the most of the weekend, here's some inspiration for the best destinations to hit around the UK. Jump in your motorhome and get travelling!
English Riviera
The English Riviera is located on the South Devon coastline, stretching for 22 miles. Otherwise known as Torbay, it spans the towns of Torquay, Paignton and Brixham. It's been a popular tourist attraction for years thanks to its huge array of activities for the whole family.
From beautiful beaches and marinas to zoos and historic buildings, the English Riviera is a one-stop destination that seems to have it all. Award-winning restaurants mix with the unique charm of each town, making sure there's something for everyone to enjoy.
Southport
A seaside town in Merseyside, Southport is an accessible destination from anywhere in the North West of the country. With many different beaches to choose from, including Crosby and Formby, explore natural sand dunes and unique art installations.
Get involved with water sports or stop for a picnic; you can be as active or as relaxed as you like. The town itself is home to The Atkinson museum and a theatre to keep everyone occupied, or you can simply follow a cycling route to while away an afternoon.
Pembrokeshire
For a rural getaway, the area of Pembrokeshire delivers like no other. With awards for its coastline and beaches, you can bring in spring with a walk through its many towns and villages. Perfect for families, Pembrokeshire is just as beautiful in the winter as it is in summer.
Whether you're looking for quality time with your kids, or you're on the hunt for the perfect Instagram snap, Pembrokeshire is home to the traditional British summer holiday; Tenby. With its 13th century town walls and castle ruins, it's an area that you spend the whole weekend discovering.
Whitby
Whitby, in Yorkshire, has many different attractions and is the perfect base for a family holiday. It's also home to the best fish and chips in the UK, supposedly! The area was home to Captain Cook as well as traditional activities like fishing. Bram stoker's Dracula features Whitby in it too.
From coastal cruises to steam trains, keep the kids entertained with a number of different attractions. Whitby Abbey is a must-see, offering brilliant views overlooking the resort, and there are plenty of museums to duck into should you have a rainy day to fill.