Motorhomes for sale that can be delivered for this season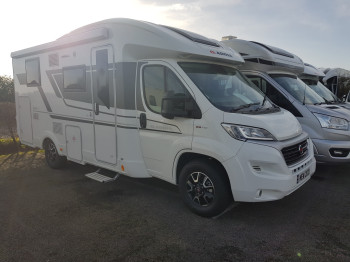 As we look towards the spring and the summer months, the possibility of going motorhoming again looks good. Here at Premier Motorhomes we have several motorhomes in stock that can be prepared and collected for this summer season.
We are main dealers for what we believe are some of the best brands in the industry.
Adria
Inspiration for your adventures.
The Adria brand promise is 'to deliver premium quality, design and value, for memorable experiences'.
Passion
Over fifty years experience.
Inspired design
Motorhomes designed for living and designed to perform.
Premium quality
World-class leading manufacturing and quality control techniques for durability and reliability.
Peace of mind
Class leading warranty, the support of over 500 Adria dealers, world class parts supply and aftersales.
Award-winning vehicles
Independent awards for design, innovation, quality and customer satisfaction.
For details of models we have 'Due in ' and 'In Stock' follow the link below
For further details on the Adria range follow the link below to Adria's own website
https://www.adria-mobil.com/motorhomes
Auto-Sleepers
Auto-Sleepers has nearly 60 years experience in meeting the needs of customers who are looking for the best in British-built motorhomes. Based at Willersey in the Cotswolds, they still take great pride in their hand craftsmanship and design expertise. Great time, care and effort go into the making of an Auto-Sleepers motorhome and it shows. The furniture, fittings and fitments are all of the highest quality, modern and stylish coupled with quality and innovation, all hand built to offer many years of pleasure.
And because thier designers use and live with their motorhomes, they know from experience what works and how to make the best use of every cubic centimetre of interior space. That's why so many of thier customers keep coming back to them.
Built on the either the Peugeot Boxer with the 2.2 165bhp engine with a manual gearbox or the Mercedes Sprinter, with the 2.2 163bhp engine and an automatic gearbox, they offer a wide range of engine and gearbox options.
With a range of 7 campervans and 15 motorhomes they also have a layout to suit everybody. All Auto Sleepers come ready to go; with an awning, reversing camera, solar panel TV aerial and on-board Wi-Fi.
For models that Premier Motorhomes have 'Due In' and 'In Stock' from Auto Sleepers follow the link below
Bailey
Go with the Nation's Favourite
The Bailey story started back in 1948, when Martin Bailey designed and built the very first Bailey caravan in his South Bristol garage. His caravans soon captured the nation's adventurous spirit, and Bailey grew into the thriving, family-run business it still is today.
We've come a long way since those early days, not least in the millions (and millions) of miles covered by people in their Bailey caravans and motorhomes all over the world. With 70 years of experience behind us, we never stop considering how we can push the boundaries of engineering and innovation in everything we do. And, like you, we're always looking forward to our next adventure, of course…
Bailey builds motorhomes with one simple principle: high specifications, superb value for money, no hidden extras. Simply put, they believe in more – and know that it's the little things that go a long way. Comfort and convenience come as standard in every Bailey, but you'll also find a host of extra features to make you feel at home, wherever you choose to make it. So it's not just your money that goes further. Their signature build quality means you and your Bailey do too.
For models that Premier Motorhomes have 'Due In' and 'In Stock' follow the link below
Follow the link below to Baileys own website
https://www.baileyofbristol.co.uk/motorhomes/
Chausson
Part of the Trigano VDL group, Europe's No.1 in recreational vehicles, Chausson celebrated 40 years existence in 2020. Their motorhomes are sold in over 27 countries, with the French factory covering the equivalent of 33 football pitches, employing more than 800 people and with an annual production of over 10,000 motorhomes. With a focus on making their vehicles accessible to a large audience, they have worked hard to launch a realistic price approach with their popular range of 'First Line' and 'Titanium' motorhomes.
Representing the good life, Chausson motorhomes became a symbol of discovery, producing the perfect balance between design and price. Their IRP (Insulation, Residence and Protection) structure is a major innovation that provides better insulation, greater resistance and improved protection. Chausson offer 16 different models allowing you to create your own horizon today. Their 'First Line' range us built on the Ford Transit chassis with the 130bhp engine and a manual Gearbox. Wheras their 'Titanium Premium' range is built on the Ford Transit chassis bit with the 170bhp engine and an Automatic gearbox.
For models that Premier Motorhomes have 'In Stock' and 'Due In' from Chausson follow the link below
Chausson - Motorhome Manufacturers - Premier Motorhomes
For further information follow the link below to Chausson's own website
https://www.motorhomes-chausson.co.uk/
Dethleffs
Dethleffs are an incredibly well-established brand, having been around since 1931. Growing from a one man operation when Arist Dethleffs developed the first home on wheels in Germany (as he wanted to promote his family business around the world but without leaving his family behind) he built this first 'caravan' in a wooden shed. Nowadays the company has a state of the art purpose-built facility and a highly automated and sophisticated production line. Dethleffs was the first German manufacturer to adopt the Fiat Ducato chassis, now the premier choice for all motorhome manufacturers.
Putting you and your family first, with the company slogan that reads 'A friend of the family', Dethleffs motorhomes take on innovative design and technology to bring you the latest in comfort and safety. With over 90 years' experience they are constantly enhancing their range and they currently offer a multitude of models for you to choose from like the new, 'Just 90' range through to the class leading Pulse and Esprit series. Dethleffs are surely a solid choice for your next family motorhome.
For models that Premier Motorhomes have 'In Stock' and 'Due In' from Dethleffs follow the link below
Dethleffs - Motorhome Manufacturers - Premier Motorhomes
For further details follow the link below to Dethleffs own website
https://www.dethleffs.co.uk/motorhomes