Motorhomes arriving soon... the Chausson 650 First Line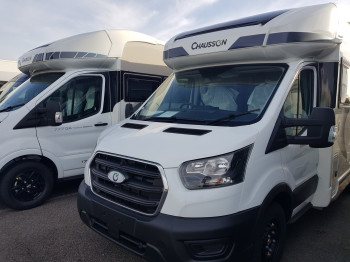 The 650 is another variant of the extremely popular 600 series.
Layout
The 650 has a large lounge an overhead drop down bed and an end bathroom over a good size garage.
Base vehicle
Based on the Ford Transit chassis the 'First Line' comes with a 130bhp engine and a manual gearbox as standard. Finished with a white exterior, Cosby furniture and Flores fabric the motorhome certainly looks the part. Standard equipment with the 'First Line' includes manual air conditioning, driver & passenger airbags, cruise control & a speed limiter. A DAB radio with BlueTooth, touchscreen and steering wheel controls and a reversing camera complete the driver comforts.
Construction
Like all Chausson's the 650 beneifits from Grade 3 insulation (an industry standard requiring the motorhome to achieve +20 degrees inside when the outside temperatue is -15 degrees). Chausson build their motorhomes
using the 'iRP' production concept, which is like no other on the market, thanks to the exceptional denisty of its walls/floors and the combination of wood and composite, which ensures the structure is stable and durable. The use of XPS insulation and GRP on the roof and floors ensures the heat 'stays in' and the cold 'stays out'. Chausson are extremely confident in this design and offer a 7 year water tightness warranty subject to annual checks.
Habitation or living area
The accomodation area is spacious and also very well equipped with a large 167lt fridge, 65lt of fresh water & 100lt of waste water; the motorhome is ready for any trip. Finally with an 'on the road' diesel heating system the 650 is also ready for 'all year round' adventures.
At just 6.39m long and at 2.35m wide and 2.92m tall, this clever motorhome packs a punch well above its weight and priced at £56840 'on the road' including the first registration fee and twelve months tax this is a great little motorhome.
Further information
See the link below to Chausson's own website for more information on the 'First Line'