Motorhomes arriving soon... 2022 Chausson 788 Titanium Premium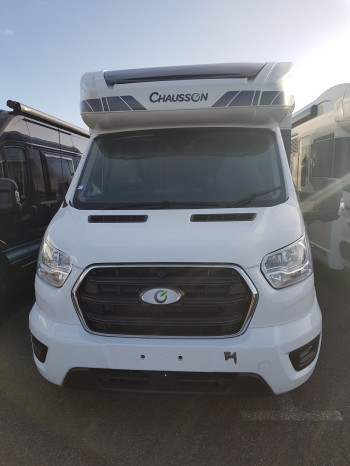 Picture for illustration purposes only.
Motorhomes arriving soon Chausson 777GA Titanium Premium.
We are expecting to recieve the new 2022 Model Year Chausson Titanium Premium 788 very soon.
Layout
This model is a classic layout with an island bed in the rear. A drop down double bed sits over a large lounge with two opposing benches in the front. With a mid bathroom and kitchen you have all you need for extended trips away.
Base vehicle
The Titanium Premium is built on the Ford Transit chassis with the 6 speed automatic gearbox and a 170bhp engine . These models have 16" black alloy wheels, fog lights, colour coded bumpers, wrap around cab blinds, an external gas socket, an external shower point.and polyester side walls in 'taupe gray' The Premium pack+ includes a BT, DAB radio with touchscreen and steering wheel controls complete with a reversing camera. We have also added the accessory pack which includes an awning and a solar panel.
Construction
This motorhome is ideal for 'all year round' use as it benefits from Grade 3 insulation; an industry standard requiring the motorhome to achieve +20 degrees inside when the outside temperature is -15 degrees. Chausson build using the iRP production concept, which is like no other on the market thanks to the exceptional denisty of its walls/floors and the combination of wood and composite, which ensures the structure is stable and durable. The use of XPS insulation and GRP faced roof and floors ensures the heat stays in and the cold stays out. Chausson are extremely confident in this design and offer a 7 year water tightness warranty subject to annual checks.
Habitation or living area
The accommodation area is spacious and has a good sized 'smart lounge'. Additionally being very well equipped with a large 141lt fridge, 105lt of fresh water & 100lt of wastewater; the motorhome is ready for any trip. Finally, as the heating uses the diesel in the fuel tank to heat the motorhome it can be used whilst travelling; so the 788 is ready for 'all year round' adventures.
Dimensions & Weights
At just 7.19m long and at 2.35m wide and 2.92m tall, with a MTPLM of 3500kg and a payload of 348kg, this mid sized motorhome is ready to go.
Pricing
Priced at £70287 'on the road' including the first year registration fee, 12 months road fund licence. Here at Premier Motorhomes, we also include the leisure battery, a 6kg Calor gas bottle, a full valet and a comprehensive handover. This 4 berth 4 belts motorhome represents a great way to get the family out and about exploring the countryside and everything the UK and Europe has to offer.
Further information
See the link below to Chausson own website for more details on the Titanium Premium models