Motorhome types and classes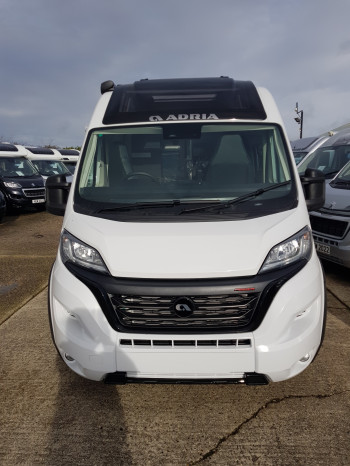 Motorhome types and classes
We make it easy for you to get started! We help explain all motorhome types simply and clearly so that you can easily find the perfect motorhome for you.
The thought is there: a motorhome or campervan would be great! The first step towards your own mobile home, a holiday on wheels, experiencing vanlife, being 'at home on the road' as well as being flexible when planning trips and holidays.
At this point the questions arise: what types of motorhomes are there to choose from and how do I find the one that suits me, my family and my holiday plans? To make it easier for you to get started in the world of motorhomes, we explain all the Adria motorhomes below.
THE CAMPERVAN
Often, different terms are used for the vehicles in this category, which then have a slightly different definition. You will come across the terms campervan, camping bus, camper, compact camper or simply van. This refers to a vehicle that retains the bodywork of the basic vehicle all round and is converted into a camping vehicle on the inside.
A campervan has two decisive advantages: the smaller dimensions of height, width and length compared to the partially integrated, fully integrated and alcove motorhomes, as well as its suitability for everyday use. It can be used as a recreational vehicle for holidays, weekend trips, city tours or overnight stays with friends as well as like a car - just a little bigger - for the way to work or shopping.
View the campervan range https://adria.co.uk/campervans
LOW PROFILE MOTORHOMES
The definition of low profile motorhomes is somewhat simpler, as there is only this one term that is used by most motorhome manufacturers.
In this type of motorhome, a vehicle chassis where the driver's cabin is combined with a motorhome body, whereby the original driver's cabin of the basic vehicle is retained and is added as living space by rotating the driver's and passenger seats.
Each motorhome manufacturer produces the motorhome body itself. At Adria we have developed the so-called 'Comprex' construction for the superstructure and perfected it with decades of know-how, in which the torsional strength of wood, the durability of polyurethane and the moisture-retardant properties of polyester are optimally combined.
Low profile motorhomes are larger and therefore naturally more spacious and comfortable than campervans. Equipped with a bedroom in the rear, a fixed bathroom - sometimes with an integrated shower, sometimes with a separate shower room - a seating group that can usually be converted into a sleeping area and, in some cases, a fold-down bed in the front, low profile motorhomes are suitable for two people as well as for small families or groups.
Another difference to campervans: low profile motorhomes usually have a garage in which bicycles or other equipment can be easily taken along.
View our low profile motorhome range https://adria.co.uk/motorhomes/coral
OVERCAB MOTORHOMES
This type of motorhome has a fixed construction with a fixed sleeping area above the driver's cabin, which is usually designed for 2 people. This means that many layouts can accommodate up to 6 people in total, which is why overcab motorhomes are particularly popular with families.
The bodywork is comparable to that of low profile motorhome: here, too, a chassis with driver's cab is chosen as the base vehicle, onto which a motorhome body is then built. The driver's cabin is also retained and is included in the living space.
Due to their external dimensions and height, overcab motorhomes take some getting used to; the driving behaviour is noticeably different from that of a car or van. In addition, you have to keep an eye on the height of bridges and low passages. But you quickly get used to this and in return you get a comfortable mobile home where even the children have a fixed place to sleep and where everyone has their own little retreat.
A CLASS MOTORHOMES
In the case of an A Class motorhomes, only the chassis with the cab platform, the dashboard, the controls and other individual parts remain from the basic vehicle; the cab is not used. Instead, the front of the vehicle as well as the rest of the body is a special construction designed by the motorhome manufacturer himself.
The advantages are obvious: the driver's cabin can merge seamlessly into the living area, there is more space and a much greater feeling of space. Even compact fully A Class motorhomes with a short vehicle length offer plenty of space inside the motorhome. From the outside, fully integrated motorhomes look more attractive, as the entire exterior design is a single entity and can be determined by the manufacturer.
The so-called royal class of motorhomes usually impresses with its high-quality interior design and a wide range of equipment options. Comfort is a top priority, and when it comes to storage space.
Depending on the manufacturer, most integrated motorhomes have a front electrically managed bed so that the motorhome is comfortably designed for holidays to accommodate 4 people. However, integrated motorhomes are often chosen by couples who do not want to do without comfort and performance on holiday or who are planning longer trips but have the flexibility of accommodating guests from time to time.