Just Arrived At Premier Motorhomes a 2022 Chausson 640 First Line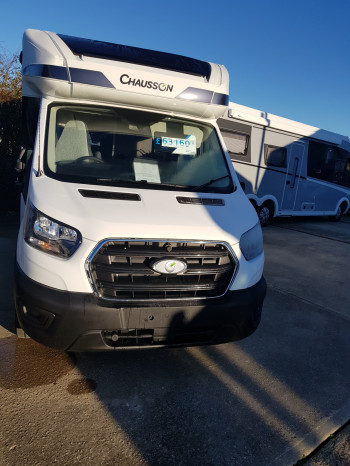 The First Line is based on the Ford Transit Chassis and comes with the 170bhp engine and a manual gearbox, this model also has the accessory pack (awning & solar panel)
Pictures for illustration purposes only.
The low profile with XXL hideaway bed
For those who want room, lots of room; the 640 provides an incredible amount of space. In just 6.99m it has a Maxi lounge, Maxi kitchen, Maxi bathroom, a garage for bikes or a scooter, a wardrobe and a 1.60cm-wide bed. Who can beat that?
Strong points
Hideaway bed 160 cm
Dressing over garage
XL door 600 mm double locking
Layout
With a large open lounge comprising two opposing benches and a drop down bed. In the rear you have wardrobe over a large garage. Comiung forward you have a seperate shower opposite the wash basin and toilet and then the kitchen opposite entrance door.
For further details on this model follow the link below to Chausson's own website
https://www.motorhomes-chausson.co.uk/modele/640/
For details of other models we have 'Due In' from Chausson follow the link below
https://premiermotorhomes.uk/page/2/?order=DESC&manufacture=Chausson&s=search&p_search=search