Hymer Wins Gold in Customer Satisfaction Awards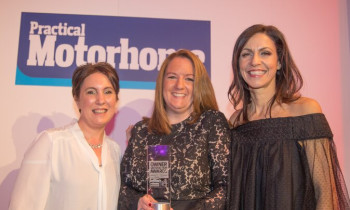 If you're on the lookout for a family motorhome to enjoy your future holidays in, it can be tricky to know where to start. With so many different motorhome manufacturers, how are you supposed to know which is the right motorhome for you? It's important to consider things like size, layout and extra amenities that will help you settle into your motorhome seamlessly, but you should also think about the brands themselves. With big names like Chausson, Auto Trail and Hymer all offering impressive leisure vehicles, how do you choose?
The renowned German motorhome manufacturer, Hymer, has recently been voted as one of the best motorhome brands for customer satisfaction. The Motorhome Owner Satisfaction Awards 2018 represents the collected wisdom of motorhome owners who are willing to share their experience. The awards were hosted by The Camping and Caravanning Club, giving prospective motorhome owners the chance to check out the most popular manufacturers.
Hymer wins big
The Owner Satisfaction Awards are based on thousands of club members, as well as Practical Caravan and Practical Motorhome readers through a year-long survey on customer satisfaction. With 17 categories, motorhome brands were put into league tables according to satisfaction ratings. The winners were announced at a ceremony in Manchester earlier this year.
Hymer motorhomes won big this year, making them an interesting prospect for those looking to buy a motorhome. Hymer won the Best Manufacturer of Pre-Owned Motorhomes, alongside Chausson. Hymer also received an 80% score and won the Gold Award for New Motorhomes.
This proves just how much of a trusted brand Hymer is, and the awards represent a recognition of Hymer's commitment to customer satisfaction. With the awards based on real-life reviewers and people who have actually experienced the motorhomes first-hand, it's a great source of knowledge for those new to the motorhome industry.
So, if you're on the hunt for a new or used motorhome, check out our extensive selection of Hymer models that are perfect for you and your family to enjoy for years to come.