Fire Safety for Your Motorhome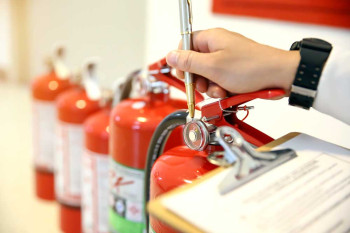 Fires in motorhomes are incredibly rare but it's still highly important to be aware of what to do if one happens. It can also help you to reduce the risk of a fire starting, ensuring that your family and friends are safe while you are touring or enjoying a lovely family holiday together. As a motorhome owner, you should be equipped to deal with an emergency like a fire, especially if you are travelling to areas where it would be difficult to get a fire engine out.
This may sound incredibly daunting and the chances are you won't encounter a fire. However, it's better to be safe than sorry. Premier Motorhomes are on hand to offer some fire safety advice for your motorhome.
Take precautions
When insuring your motorhome, you may want to look at specialist cover that will help you out in the instance of a fire. The damage to a motorhome can be quite severe, so it's worth looking at even though the chance of fire is low.
On top of this, you should take particular precautions to reduce the risk. With so many electrical appliances in the vehicle, alongside an oven and a petrol engine, insurance companies do get some claims each year regarding a fire. However, it can easily be prevented as long as you take some time to equip your motorhome properly.
We are often reminded of the importance of smoke detectors in our home, and the same goes for your motorhome. Don't overlook the benefits of a smoke detector; it is probably the first indicator that something is giving off smoke and it might help you to solve the problem quickly and avoid any flames. If your motorhome is quite big, you might want to consider fitting more than one smoke detector. Don't forget to test the batteries too, just like you would at home. Store spare batteries in the motorhome at all times as you never know when you might need to replace them.
The gas and electric appliances in your motorhome should be checked at least once a year to make sure they are not at risk of malfunction. A basic safety check will usually be done as part of a habitation area service, but you may want to consider a full service of your gas appliances by an engineer too.
Be careful if you are hosting a BBQ; make sure there are at least two metres between the BBQ itself and your motorhome, especially if you have an awning.
Remember to invest in some essentials like fire blankets and extinguishers. They are sometimes included in your motorhome but it is worth checking and picking up these bits of kit ASAP. Use your extinguisher for small fires in and around the motorhome, but a fire blanket is more helpful in the instance of a cooking fire.
What to do in the case of a fire
Unfortunately, the odd fire can happen, so it's important to be ready and know what to do. Remember to keep calm and act quickly. If you are struggling to put out the fire by yourself, evacuate the vehicle and call the emergency services when you're a safe distance away.
If you need to evacuate, leave all your possessions behind. So much of a motorhome is flammable, including the likes of an awning, so it may be too dangerous to go back for your personal items.
If the fire escalates, keep clear of your motorhome and warn anyone else nearby. While motorhome fires can be put out quickly, it's important to never endanger yourself or those around you. Think quickly and notify the fire brigade as quick as you can if need be.