Due In 2022 Dethleffs Trend t7017EB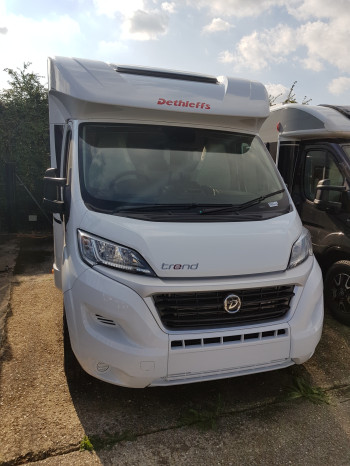 This Due In 2022 Dethleffs Trend t7017EB has the upgraded 160bhp engine, Trend Design pack, 16" alloy wheels, Dethleffs Naviceiver and twin lense camera, flush fitting windows and second leisure battery.
2022 Dethleffs Motorhome Trend t7017EB- The perfect start
The Trend is a true friend of the family – at a family-friendly price. It turns heads with its flawless workmanship, impeccable South German quality and numerous features that can hardly be described as standard. These include, for example, our rot-proof LifeTime-Smart bodywork construction.
For maximum flexibility there is wide selection of sleeping berths in the Trend models. So the Low Profile models can be optionally ordered with a pull-down bed, the A Class ones have it on board as standard. It offers additional beds in a flash. For those of you who prefer the outstanding details Dethleffs have created the Design Package with many chic options.
2022 Dethleffs Trend t7017EB Highlights
Perfect price / performance ratio
Large rear garage, suitable for most e-bikes
Optional pull-down bed for Low Profile models
142-litre fridge with large freezer compartment
High payload capacity despite being licenced for 4 persons at 3.5 t total weight
Harmonious "Light Moments" lighting system
Pictures for illustration purposes only.
2022 Dethleffs trend t7017EB
For further details on the Trend models follow the link below to Dethleffs own website
For details of other Dethleffs models we have 'Due In' and 'In Stock' follow the link below
https://premiermotorhomes.uk/?order=DESC&manufacture=Dethleffs&s=search&p_search=search