8 Reasons Why A Motorhome Holiday Is Better Than Camping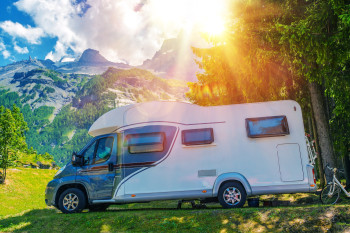 Holidays are a time of year that everyone looks forward to, and taking a break from work and the daily stresses to spend time together as a family or couple, or even just for you, is something we all need from time to time.
Motorhome holidays provide fun for all the family, and when it comes to travelling and staying in comfort and style, motorhome holidays offer many advantages. Some people compare motorhomes to camping trips but they are not even in the same league! If you are not as convinced as we are about the superior experience a motorhome holiday can provide then here is a list of 8 reasons why a motorhome holiday is much better than camping.
Comfort
Possibly the biggest advantage of a motorhome is the level of comfort it brings to your holiday. With large and soft beds, sofas you can sink in to and all the homely creature comforts we are used to - a motor home holiday truly has it all. Who would want to decline that in favour of a hard camping bed, uncomfortable sleeping bag and hard uncomfortable foldout camping chairs?
Amenities
Another big advantage of a motorhome holiday is that you never again have to experience the terror and disgust of using public or onsite toilet and shower blocks full of germs and who knows what else. With your own private toilet and shower, all you need is right there in your motorhome and you will also never need to worry about where the next service station is while you are travelling to your holiday destination.
Heating and air conditioning
Camping holidays are often season restricted, as it is just too cold to camp in the winter. It can be equally uncomfortable to camp in the middle of summer too as tents get so unbearably hot during the day. However, motorhomes can be used in any season, and with central heating and air conditioning keeping you at just the right temperature it doesn't matter what time of the year it is – you can still take a break away.
Food
If you choose to go on a camping holiday then your food choices often become very limited. A BBQ is nice, but not for every meal and it's often either that or something out of a tin. Motorhomes are often equipped with a fully fitted kitchen allowing you to serve up home cooked meals every day, just how you like them. Having a fridge in a motorhome can also save you money on food as you won't need to stock up every day and this is especially useful if you are travelling with a fussy eater.
Rain won't stop you
How many horror stories have you heard from friends, families and pretty much everyone who has ever been camping about how the rain has ruined their holiday?  From leaking tents and soggy beds to the thundering noise of the rain hitting the tent; camping in the rain is a truly miserable experience. However, the rain won't bother you in the slightest as you look out on it from the comfort of your motorhome, safe in the knowledge you and your possessions are going to stay dry. Motorhomes also give you the space to bring along some board games, tablets or books to keep you busy should the typical British weather try to spoil your holiday fun.
Pitching up
Have you ever tried to pitch a tent without it descending into chaos and rows? The larger the tent, the long it is going to take to set up which can lead to bored kids and stressed out parents. Holidaying in a motorhome removes all that stress and bother as you simply park up and start your holiday.
Security
One of the big concerns many people have about camping is the security of their belongings, and even themselves. While you can purchase tent locks let's face it, it is not hard for someone to break into your tent while you are out for the day and take your valuables. This can mean you end up taking all your stuff out with you every day meaning big bags and sore backs. However, while a motorhome you will be taking all your stuff with you anyway and then securely locking it up behind a solid door.
Home away from home
Being able to hang up your clothes, spread out your toiletries and have your own space is one of the many bonuses of a motorhome holiday. With limited space in a tent and no wardrobes, drawers or vanity tables when camping you can end up literally living out of a suitcase for your entire holiday. Digging out your clothes each day, hoping they aren't too creased, is seriously inconvenient. You then have to stow your suitcase away again once you have finally found that top you were looking for and then do it all again the next day...and the day after…and the one after that…
A motorhome holiday simply outdoes a camping holiday in every way time and time again. Visit us at Premier Motorhomes to start your journey to the perfect holiday in your own premier motorhome