2024 Dethleffs Globebus Go t45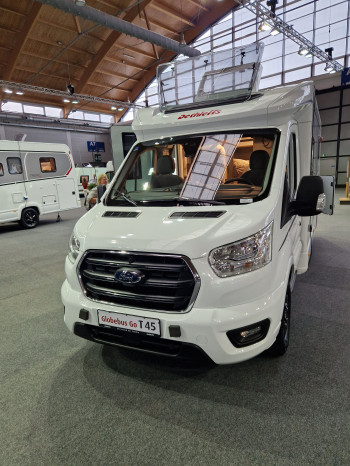 DUE IN SOON
Description:
This 2024 Dethleffs Globbus Go t45 is built on the Ford Transit chassis with a narrow body conversion. At just 2.20m wide, 6.69m long and just 2.68m tall this is a great size for touring.
Dethleffs Globebus Go - so compact and manoeuvrable
The next adventure is just a bend in the road away! The new Globebus Go is so compact and manoeuvrable that even narrow roads and low passages cannot stop it. This enables completely new travel and leisure experiences.
On the other hand, it is amazingly spacious inside: with plenty of room to move around and storage space, a smart swivel bathroom and generous bed dimensions. By the way: if desired, the Globebus Go can also be upgraded to a real winter specialist!
Plus factors
Agile and safe handling thanks to compact van dimensions with an external width of just 2.20 m and an external height of 2.69 m
Proven Lifetime body construction with GRP outer skin and excellent insulation
Diesel heating with 6 kW heating capacity and 10 l hot water boiler
Electrically operated compressor refrigerator with perfect cooling performance
Pleasant sleeping comfort due to 150 mm thick 7-zone cold foam mattresses made of climate-regulating material and ergonomic wooden slatted frames
Layout of the 2024 Dethleffs Globebus Go t45