Just Arrived - 2023 Auto-Sleepers Burford Duo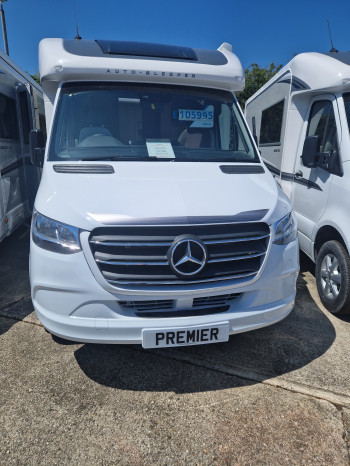 This 2023 Auto-Sleepers Burford Duo has just arrived built on the Mercedes chassis with the 163bhp engine and an automatic gearbox.
Layout
Twin Bed Ensuite
Prices from: £101,995
The Burford Duo offers aspirational decadence for the discerning motorhome owner looking for the space and comfort normally associated with a tag axle Motorhome but crucially on an economically lighter rear wheel drive single axle Mercedes chassis. The front provides a spacious lounge with a fully featured kitchen leading into a true flagship of a rear bedroom with spacious single beds and a full width en-suite washroom whilst the Mercedes offers unprecedented driving comfort and is feature packed with computerised driving aids ensuring even the longest journey is a pleasure.
PICTURES FOR ILLUSTRATION PURPOSES ONLY
For further details on the Auto-Sleepers Burford Duo follow the link below to Auto-Sleepers own website
https://www.auto-sleepers.com/motorhomes/mercedes-coachbuilt/burford-duo
For further details on other models we are expecting from Auto-Sleepers follow the link below
https://premiermotorhomes.uk/?order=DESC&manufacture=Auto-Sleeper&s=search&p_search=search