2022 Season for Motorhomes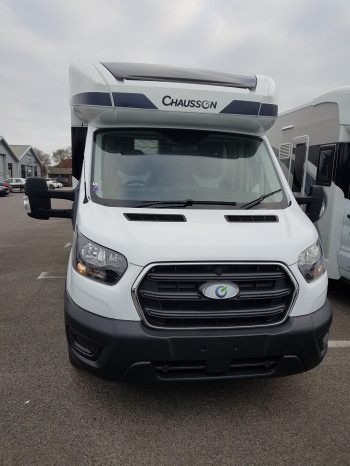 As we move into spring the 2022 Season for Motorhomes kicks into gear. We have just had the 2022 Caravan & Motorhome show at the NEC and all signs are favourable for another busy season; with lots of new people entering the market for the first time. Here at Premier Motorhomes in Birdham, NR. Chichester, West Sussex we have several vehicles that are perfect for people just joining the motorhoming fraternity.
Firstly we stock 'Chausson Motorhomes' which represent excellent value for money and a great investment for first timers. A particular favourite model for families is the Chausson 720 First Line; which has twin bunks in the rear and a double drop down bed in the front over a good sized lounge. Priced at £62040 'on the road' this motorhome is built on the Ford Transit chassis with a 170bhp engine and a 6 speed manual gearbox. Follow the link below for further details.
https://premiermotorhomes.uk/motorhomes/2022-chausson-720-first-line/
Additionally we have a good selection of used motorhomes; including a great 6 berth from the UK manufacturer Bailey Of Bristol; this motorhome has a rear lounge and a double drop down bed in the front over another double make up bed. Follow the link below for further details
https://premiermotorhomes.uk/motorhomes/2014-bailey-approach-autograph-765-se/
New stock for 2022 Season for Motorhomes
There is limited new stock availability, particularly on the Fiat Ducato 8 chassis; but there is a reasonable supply of Ford, Peugeot and Mercedes chassis so our Chausson, Bailey and Auto Sleeper products are steadily coming through. However our Dethleffs units which are built only on the Fiat platform are limited to just one a month and our Adria stock who also only build on the Fiat platform are sold out for this season so there are very few coming from them this summer. Follow the links below for our 'In Stock' and 'Due In' from each manufacturer
Adria
https://premiermotorhomes.uk/?order=DESC&manufacture=Adria&s=search&p_search=search
Auto-Sleepers
https://premiermotorhomes.uk/?order=DESC&manufacture=Auto-Sleeper&s=search&p_search=search
Bailey
https://premiermotorhomes.uk/?order=DESC&manufacture=Bailey&s=search&p_search=search
Chausson
https://premiermotorhomes.uk/?order=DESC&manufacture=Chausson&s=search&p_search=search
Dethleffs
https://premiermotorhomes.uk/?order=DESC&manufacture=Dethleffs&s=search&p_search=search