2022 Chausson 630 First Line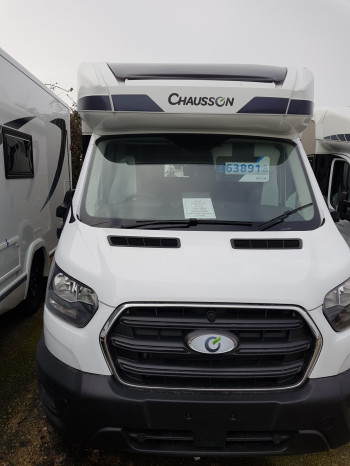 Description:
The 2022 Chausson 630 First Line is based on the Ford transit chassis with the 170bhp engine and a manual gearbox. We have added the First+ pack which includes a Bluetooth DAB Radio with Touch screen and steering wheel controls and reversing camera. This is a twin single drop down beds over the lounge.
UNIQUE: the low profile with two independent roof beds!
You no longer have to choose between a large lounge and a large bathroom, wide twin beds and an ample garage. The 630 now offers all this and even a wardrobe, thanks to two independent roof beds that let you sleep well at night but leave room for a large living area during the day.
Strong points
Unique on the market
Hideaway twin beds
Dressing over garage
Layout of the 2022 Chausson 630 First Line
The layout is twin individual drop down beds over a large lounge.
Base vehicle
This First Line model is on the new Ford Transit chassis with the 170bhp engine, manual gearbox. It also comes with 16" black alloy wheels and a BT, DAB radio with touchscreen and steering wheel controls and a reversing camera. We have also added the Accessory pack which includes an awning and a solar panel. At just 6.99m long and 2.35m wide this mid sized motorhome is perfect for the all the family.
Construction
This motorhome is ideal for 'all year round' use as it benefits from Grade 3 insulation. This is an industry standard requiring the motorhome to achieve +20 degrees inside when the outside temperature is -15 degrees. As it uses the diesel in the fuel tank to heat the motorhome it means that the heating can aldo be used whilst travelling. With a freshwater capacity of 105lts and 100lts for wastewater, a 141lt fridge and adequate storage you can venture far into the wilderness.
Habitation or Living area
On entering the motorhome we see a large lounge to the right with two single drop down beds overhead. Opposite the entrance door, we have a well appointed kitchen with a 3 burner hob and a combined oven and grill. Moving towards the rear is the bathroom with wash basin, toilet and a seperate shower. Then at the rear you have a large wardrobe over a good sized garage.
Pricing
Priced at £63891 on the road including the first registration fee and 12 months road fund licence this 4 berth 4 belts motorhome represents excellent value for money.
Further information
For further information on the 630 First Line follow the link below to Chausson's own website
https://www.motorhomes-chausson.co.uk/modele/630/
For further models that we have 'In Stock' and 'Due In' from Chausson follow the link below
https://premiermotorhomes.uk/manufacturers/chausson/
THE PICTURES BELOW ARE FOR ILLUSTRATION PURPOSE ONLY