2022 Adria Twin Supreme 640SGX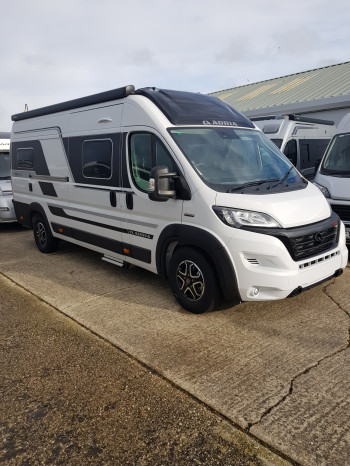 Description:
2022 Adria Twin Supreme 640SGX
TWINS ESCAPE THE ORDINARY
The 2022 Adria Twin Supreme 640SGX is the best way to escape the ordinary in an award-winning campervan. With high specifications and really practical, comfortable layouts; experience innovative features like the exclusive SunRoof and 'cabin-loft' open-plan design.
DESIGNED TO PERFORM
Real world performance
All Adria campervans are also designed to perform. Everything is meticulously designed, developed and tested to ensure your safety, comfort and enjoyment. Built to enjoy, built to last.
CLIMATE CONTROL
Our campervans are designed for use, all year round.
Optimised insulation, moisture control and reduced heat-loss in all vans. Twin Sports, Twin Supreme and Plus models with enhanced insulation:
1 Reduced thermal bridges and new thermal breaks.
2 Recycled Ecofiber 40 material, heat-bonded for better insulation.
3 Improved insulation and air-loops around doors and windows.
4 Vapour barriers to prevent condensation.
INSULATION
Adria 'Thermo-build' standards of insulation and air-flow management, built with advanced insulation materials, best heating design and air-flow for controllable comfort, all year round.
AIR-FLOW MANAGEMENT.
Adria's integrated Air Flow System for ventilation and the optimum circulation of air, cooling and heating.
in addition to the standard specification this motorhome has the 180bhp engine upgrade, 43H, Manual transmission, All Inclusive pack, Fiat Luxury Pack, 2 x 100AGM batteries, 3rd bed conversion kit, Adria MACH, Leather Vaast, Towbar, flyscreen on the sliding door and a 120w solar panel.
For further details on the 2022 Adria Twin Supreme 640SGX follow the link below to Adria's own website
https://adria.co.uk/campervans#
Fo details of other Adria Motorhomes we have 'Due In' follow the link below
https://premiermotorhomes.uk/?order=DESC&manufacture=Adria&s=search&p_search=search