2021 Auto-trail Adventure 55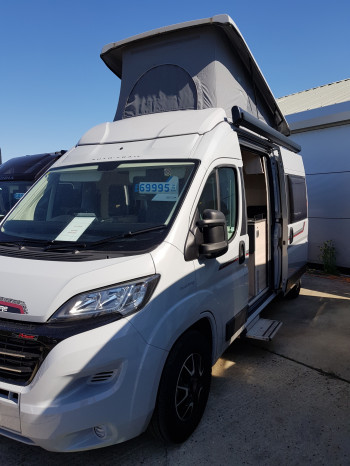 This 2021 Auto-Trail Adventiure 55 has just arrived. with only 1600miles on the clock finished in expedition grey. Built on the Fiat Ducato series 8 chassis with the 160bhp engine and the 9 speed automatic gearbox.
The Auto-Trail Adventure 55 sleeps up to four in a compact sub six metre bunk bed campervan style layout. This layout is fast becoming popular amongst a wide range of motorhome lovers; a smaller chassis gives you total freedom to choose your next destination at the drop of a hat.
The Auto-Trail Adventure is a great camping crossover vehicle for both families and solo travellers as it gives you everything you need to enjoy a few nights away at the coast, on the road or abroad. A pop-top campervan roof bed which forms a bunk bed layout gives you a versatile sleeping space for two wherever your travels take you.
You'll be hitting the road on 16" diamond cut alloy wheels, black coded front grille, upgraded awning and the Expedition Grey external colour.