2014 Elddis Majestic 175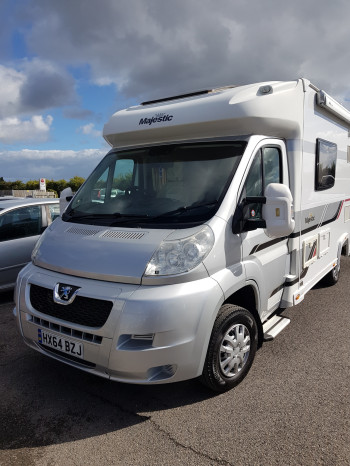 This 2014 Elddis Majestic 175 is a 2 berth motorhome with just 28500 miles and priced at £39,995
The Elddis Majestic 175 is a comfortable yet compact, 2 berth motorhome with a rear bathroom layout. There is plenty of storage overhead, the lounge can easily be converted in to a large double bed. In the centre of the motorhome is the kitchen which features a stainless sink, gas hob, and oven and grill. The front cab seat swivel to provide extra seating space while the low profile cab has additional storage and is also high enough to allow easy access from cab to habitation area.
Built on the Peugeot Boxer chassis with a 2.2Llt Diesel engine and a 6 speed manual transmission.
Features include, Electric Windows, Electric Mirrors, Immobiliser, Cruise Control, CD, Radio, Power Steering, Swivel Seats, Heki Roof Lights, Television and Aerial, Blown Air Heating, Awning, Microwave, Fridge, Freezer, Oven, Grill, Gas Hobs, Shower, Electric Step, Blinds, Fly Screens.
Extras include, towbar, bike rack, air suspension, new carpets and a ceramic coating.
Gross Vehicle Weight, 3,500kg Length 7.2 meters. This compact low profile motorhome is in lovely condition throughout and is fully working and ready for use. Viewing is definitely recommended.
2021 Auto Sleeper Bourton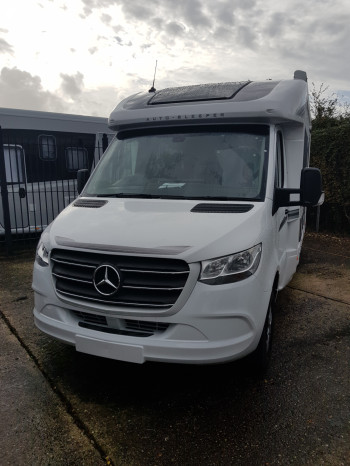 Description:
This 2021 Auto-Sleepers Bourton has the 163bhp engine and the Mercedes premium pack. This includes the 7 speed automatic gearbox, 10 MBUK infocentre and habitation air conditioining.
Layout of the 2021 Auto-Sleepers Bourton
Mercedes is justly held in high regard for its engineering pedigree and the Mercedes chassis has been designed for luxury Motorhomes and campers, making Mercedes the perfect partner to form the foundation of our Flagship Motorhome range. In addition to motorhomes and campers we also have a large range of luxury van conversions available.
The Bourton builds on the popularity of the Stanton to deliver a spacious no compromise front lounge end kitchen model, which delivers on every front. Its huge lounge quickly converts at night to provide a choice between full-length singles or a decadent double bed whilst the Mercedes chassis is renowned for its driving comfort and the optional fully automatic gearbox makes it the perfect base vehicle for a luxuriously specified flagship motorhome range.
Dimensions and weights of the 2021 Auto-Sleepers Bourton
Just 6.45m long, 2.90m long and 2.30m with a MLTPM of 3500kg
For further information on the Auto-Sleepers Bourton follow the link below to Auto-Sleepers own website
https://www.auto-sleepers.com/motorhomes/mercedes-coachbuilt#mercedes-coachbuilt-bourton
For further details of other moels 'Due In' and 'In Stock' from Auto-Sleepers follow the link belwo
https://premiermotorhomes.uk/?order=DESC&manufacture=Auto-Sleeper&s=search&p_search=search
2016 Elddis Autoquest 175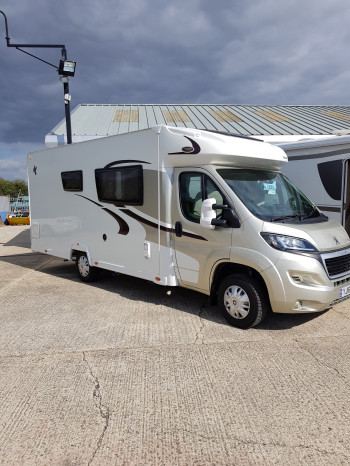 2023 Auto-Sleeper Air
2023 Auto-Sleeper Air
Welcome to the 2023 Auto-Sleeper Air - a brand new Custom Ford Campervan ready for all the times of your life. Whether at home or away, your new Air offers everyday comfort and practicality, plus all the benefits of a motorhome. A Custom Air Campervan comes ready for adventure and ready for everyday use. Daily tasks are a breeze thanks to the compact size, allowing for easy navigation and parking in built up urban areas. Once you're ready to swap the briefcase for a surf board, your Air will be there to transport you as you expand your horizons and enjoy more leisurely pursuits.
Auto-Sleeper are pleased to announce Air Camper has WON Best Campervan under 5m in the prestigious Motorhome & Campervan Design Award 2022 - find out more.
It's time to break free from the monotonous everyday and discover a world of new adventures. The Air by Auto-Sleepers is a brand new campervan built on the high specification Ford Transit Custom Chassis. Inside a versatile and functional touring layout meets advanced driving technology.
Ford EcoBlue 170PS Manual Engine with an automatic gearbox option available
3 Year Base & Paint Surface Warranty
96 litre Fuel tank
Alloy wheels
Electric windows and wing mirrors
Colour coded side mirrors and rail cover
Colour coded Upper and lower front bumper and Colour coded upper rear bumper
Xenon headlights with static bending lights
Tailgate
Thule Side Mounted Canopy with Integrated Awning Light
Thule Slide Out Entrance Step
DRIVER COMFORT AND SAFETY
Driver and passenger airbags
Intelligent Adaptive Cruise Control Ø2)
Parking distance sensors
Enhance active park assist
ISOFIX Mounting Points x 2
Pre-Collision Assist Ø2)
Blind Spot Information System Ø2)
Torque Vectoring Control
Lane-Keeping Alert Ø2)*
Driver Alert Ø2)
Cross Traffic Alert Ø2)
Traffic Sign Recognition
Ford SYNC 3
SideWind Stabilisation Ø1)
Traction Control 1)
Emergency Brake Assist Ø1)
Electronic Stability Control (ESC)Ø1)
Trailer Sway Control Ø1)
Hill Start Assist Ø2)
Remote central locking of cab doors and immobiliser
Cab air conditioning
Fully upholstered swivel captain chairs with arm rests and height adjustment
CO2 alarm
Smoke alarm
Three point seat belts to all designated passenger seats
Multi-Functional Display screen with Sat-Nav and Rear-view camera
Media function controls on steering wheel
DAB Radio with MP3 player, USB connection and Bluetooth handsfree
2 burner gas hob
Dometic mini grill with piezo ingnition
Stainless steel kitchen sink with cold water tap
Dedicated cutlery drawer
Kitchen storage
45 litre Dometic compressor fridge
ELECTRICS, GAS AND PLUMBING
USB charging ports
12v socket
Mains consumer unit with mains isolator
Large & easy to read control panelwith charger
Webasto Air Top 2000 STC 2kW Diesel Heater
Pressurized fresh water pump
Isolation taps for gas appliances
60W Solar panel with 60ah Lithium leisure battery
Underslung Insulated 40L Fresh Water Tank
Underslung Insulated 40L Waste Water Tank
Underslung 15 litre LPG gas Tank
External BBQ Point
Dometic portable toilet
Multiple USB points & Wireless charging pad
Elevating tilt SCA roof with gas-assisted struts
Convertable bench seat
Roof double bed (max weight 150kg)
Reimo sliding floor track rear seating system
Dometic blinds & flyscreens
Car style comfortable everyday rear passenger seats for 3
LED underlights, spotlights and reading lights
Multifunctional wardrobe
Spacious storage lockers
Removable dinette table with stowage area
Secure chrome positive catches on all furniture doors
Cold water shower
9.8 litre capacity Dometic 972 portable toilet
For further information on the 2023 Auto-Sleeper Air follow the link below to auto-Sleepers own Website
https://www.auto-sleepers.com/motorhomes/ford-air-camper
For details on other models 'In Stock' or 'Due In' from Auto-Sleeper follow the link below
2019 Chausson Welcome 610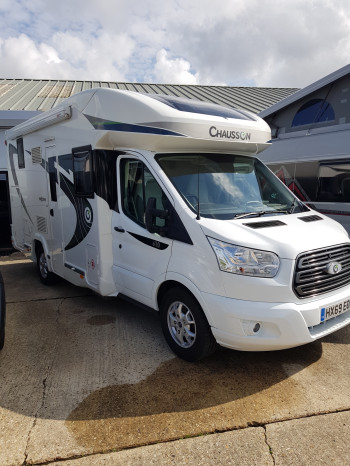 2013 Auto-trail Tracker FB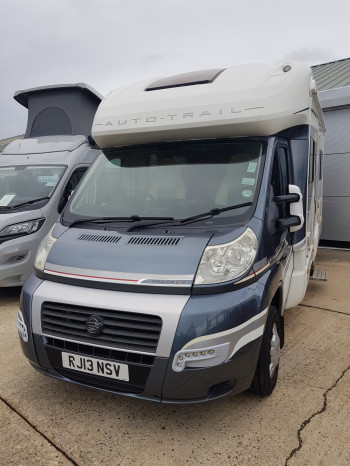 2021 Adria Coral Supreme 670DL
2021 Adria Coral Supreme 670DL
Meet the new generation 2021 Adria Coral Supreme 670DL motorhome. Built in Slovenia; with practical features and contemporary living spaces at the heart of the design, the Coral sets the benchmarks for style, technology, comfort and practicality. "It's time to live your best life". This Adria offers seperate twin singles and an end washroom. Up front you have an 'L shaped' dinette with two additional travelling seats and a huge double skylight. In addition to the standard UK specification this motorhome has the upgraded 140bhp engine with a 9 speed Automatic gearbox. Extras include the All Inclusive pack (TV bracket, Carpets, Oven & Grill, Awning, Reversing camera with seperate screen) Fiat Lux pack (Traction plus with HDC , Uconnect with 7" screen alloy wheels) and a 140w solar panel.
PICTURES ARE FOR ILLUSTRATION PURPOSES ONLY.
In addition to the standard specification this motorhome has the 140bhp engine and the 9 speed Fiat Automatic gearbox, All Inclusive pack, Fiat Lux pack, 2 x leisure batteries and 140W solar panel.
Dimensions & weights
The Coral Supreme 670DL is 7.49m lomg 2.29m wide and 2.89m tall. Plated with a MTMLM of 3500kg MIRO of 3100kg
2018 Dethleffs Globebus t006
This 2018 Dethleffs Globebus t006 has twin single beds in the rear that can be converted to a large double bed. It also has a 3rd make up bed in the front using the dinette.
Being just 2.20m wide its a narrow motorhome thats easy to maneourve around country lanes when exploring the countryside.
Dethleffs Globebus – a compact motorhome
With a length of just under seven metres and a width of 2.20 metres, the Globebus is the most compact and manoeuvrable motorhome series made by Dethleffs. Featuring the handling of a van and the comfort of a large motorhome, it is a perfect companion for active motorhome owners as well as city tourists.
The Globebus is being equipped with a new, attractive interior design as well as a friendly, fresh appearance – with bright wood and white surfaces and attractive flooring with a modern concrete look. The kitchen is also enhanced through revised positioning of the cooker and sink, which enlarges the work surface. The interior can now optionally be illuminated with the harmonious "Light Moments" lighting system. A new non-slip surface makes it even safer to store items in the rear garage. New twist/quick-release latches on the doors of the rear garage feature increased operating comfort as well as additional safety.
The van among motorhomes! With safe, agile handling
First-class insulation for the superstructure. Fully winterproof on request
Large L-shaped seating lounge with comfortable, ergonomically contoured cushions
Fully equipped kitchen with gas cooker, large fridge and sturdy countertop extension
Full bathroom with shower
Exclusive Gran Turismo Package (optional)
Tall rear garage with access from both sides and max. 150 kg distributed load
Compact vehicle dimensions
For further details on the 2018 Dethleffs Globebus t006 follow the link below to Dethleffs own website
For further details on other models we have'In Stock' and 'Due In' follow the link below to our own website
https://premiermotorhomes.uk/?order=DESC&manufacture=Dethleffs&s=search&p_search=search
2022 Chausson 720 First Line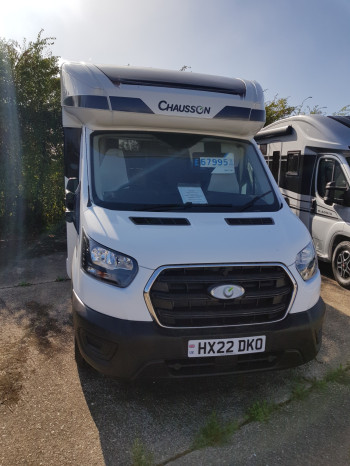 2022 Chausson 720 First Line
Here we have the 2022 Chausson 720 First Line. The 'First Line' range is based on the Ford Transit 2.0lt 170bhp engine with a 6 speed manual gearbox. Plated at 3500kg with cruise control and speed limiter, this model has been upgraded to the CONNECT pack which includes a BlueTooth DAB radio with touchscreen & steering wheel controls and a reversing camera. The 2022 Chausson First Line 720 also has white sides, a white cab, a TV bracket, a flyscreen on the door, double locking windows with combined blinds/flyscreens. All Chausson's have 100% LED lighting and use the vehicle fuel (diesel) to power the heating system so that it works whilst travelling.
Layout

The 720 model layout is a large drop down bed over a smart lounge incorporating two hidden additional passenger seats under the lounge bench seats. To the rear of the motorhome you have the fridge on the left and the kitchen opposite, further back you have the shower on the right opposite the toilet and wash handbasin. There are two full size bunk beds in the rear, making this a comfortable 4 berth with 4 travelling seats. As with all Chaussons this model is built using the IRP structure, GRP on the roof/floor/sides, styrofoam insulation a 64mm thick floor and a 55mm thick roof.
This model includes the Premium pack +(BT DAB radio and camera) and the Accessory Pack (awning & solar panel) and a towbar.
This 2022 Chausson 720 First Line is as new with just 820miles on the clock. So if your after a great motohome for a family of four with twin bunks, a drop down bed and an Automatic gearbox please call to place a deposit.
Further information on the 2022 Chausson 720 First Line
For further information on this model follow the link below to Chausson's own website
https://www.motorhomes-chausson.co.uk/modele/720/
For further models that we are expecting from Chausson follow the link below
https://premiermotorhomes.uk/?order=DESC&condition=New&manufacture=Chausson&s=search&p_search=search
**** PLEASE NOTE THE PICTURES ARE FOR ILLUSTRATION PURPOSES ONLY ***
2018 Dethleffs Esprit i6810-2