2023 Adria Active Duo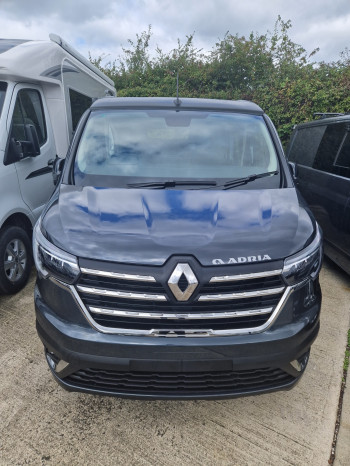 The new 2023 Adria Active Duo
PLAY. STAY. EVERYDAY.
With the new Active Multi-Purpose Camper, you can really play, stay and use it every day.
PLAY.
Your basecamp for outdoor living and sports! Plenty of storage for your outdoor gear and living space to be close to nature.
STAY.
Easy to set up accommodation for up-to five people, with a convertible bed in the living space and a bed in the pop-top roof.
EVERYDAY.
Use it every day as a main or second household car. Homologated seats for six passengers, including a large movable bench.
Interior features
The new Active Duo, fully equipped for holiday adventures, with accommodation for up-to 4 people, sliding door on both sides, flexible open living space, pop-top roof accommodation and fully equipped fixed kitchen, fixed wardrobe and storage space.
Exterior features
Designed and engineered to integrate with the new Renault Trafic, making driving a pleasure, with powerful and efficient new Euro6D Full engine, in four variants.
2,0l / 110HP / 130 HP / 150 HP / 170 HP
The new Renault Trafic, has restyled exterior and new cabin, with new easy-life features and many driver aids.
RENAULT
New Renault Trafic cabin and interior features:
1 NEW DASHBOARD DESIGN.
2 NEW DECORATIVE inserts.
3 NEW STEERING WHEEL.
4 NEW TFT CLUSTERS (colour clusters as option).
5 NEW AIR-CON COMMAND.
6 NEW MULTIMEDIA SYSTEMS (EasyLink or EasyLink Nav).
7 New DOOR PANEL.
8 NEW STORAGE places.
9 New KING SIZE CUPHOLDERS.
10 New SMART PHONE CHARGER.
Layout of the 2023 Adria Active Duo
For further details on the Adria Active Duo please follow the link below to Adria's own website
https://www.adria-mobil.com/campervans/active/base