Adria Roadshow 18th November - 21st November 2021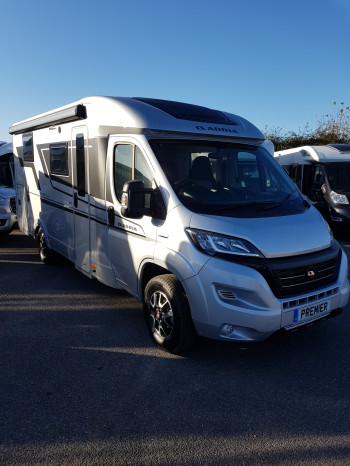 The dust has now settled on our very successful 'Adria Roadshow Weekend' at Premier Motorhomes Chichester. We had a number of loan 2022 Fiat Ducato 8 chassis vehicles from the factory which was great to 'showcase' the new model ranges including the Twin, Compact, Coral and Matrix verions. It was to really good to let customers view these new 2022 models so that they could make informed decisions on their potential purchases. The weather was also favourable and the Silver sided Compact Supremes shone brightly in the brisk fresh air.
Adria have been making the very successful Twin range of van conversions for many years, it now comes in two styles, the Supreme which is an all singing all dancing panel van conversion to very high specifaction with their exclusive 'Sun roof' and 'cabin loft'. The New 'Sports' model incorporate a pop up roof for two extra berths.
The Compact range as described is 'compact' in width, being just 2120mm wide; this agile go anywhere motorhome is perfect for the weekend getaway as well as the longer break. Classic layouts are available with end bedroom either twin singles L or island bed C or in the shorter SP model a transverse bed over a great garage. Front layouts include the classic half dinette or the new lounge front with opposing benches.
The Coral is a full sized motorhome with their exclusive 'Sun roof' an additional large rooflight over the living area, again available in variuos layouts. Whereas the Matrix has a built in double drop down bed over the living area.
New 2022 models from Adria are now available to order from us but we have limited supply due to the shortage of semi-conductors which is resulting in a delay in production of the chassis and consequently a delay in supply of said chassis to the convertor. Please see the New Motorhomes > DUE IN section for the models we still have availabale for the season.
We were also fortunate to have representatives from Camping & Caravanning Club on site and they signed up a few new members. As a 'Preferred Dealer' we offer members an additional £500 discount over and above any other deals we might running.